Celebrate 4 years of Apex Legends with the Anniversary Collection Event
Celebrate our 4th Anniversary and play to earn cosmetics with a new community-created reward track and more!
The celebration continues with this year's Anniversary Collection Event, featuring a community-created reward track, limited-time Legendary squad set cosmetics, and more. Unlock all 24 limited-time cosmetics and earn enough Heirloom Shards to unlock a Heirloom or Prestige Skin of your choice!
COMMUNITY-CREATED REWARD TRACKER
This year we're featuring a reward track filled with 12 community-created cosmetics and more, totaling 24 event-limited skins that players can earn during the event. Complete challenges to unlock community-created rewards on the Rewards Track, including Epic skins for Wattson, Fuse, the C.A.R. SMG, and the Wingman.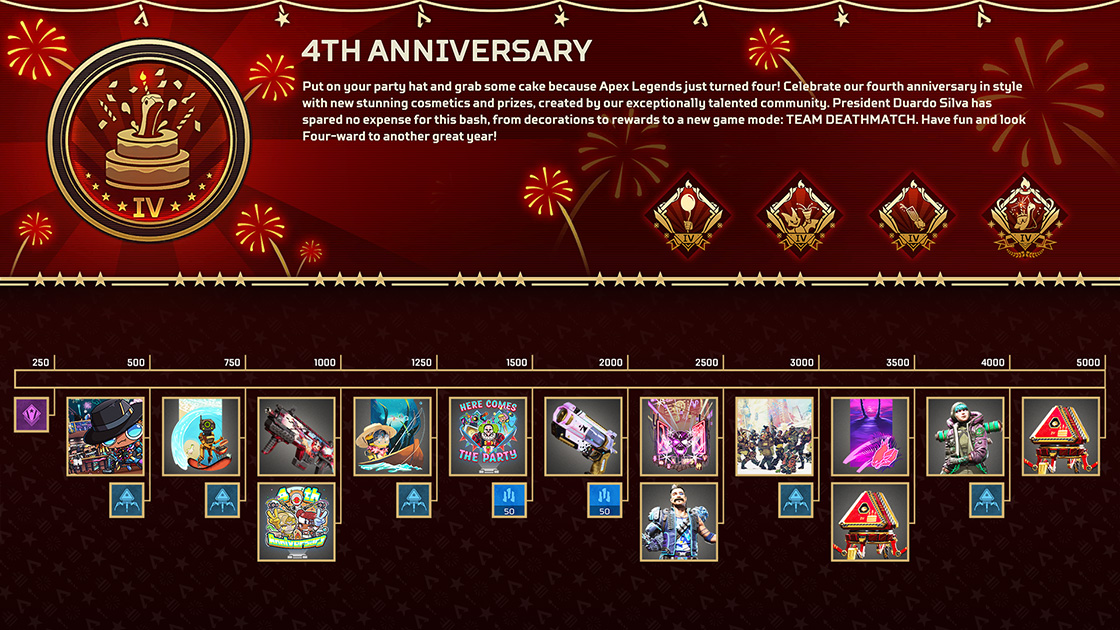 We'd also like to give a huge thanks to the talented community creators that contributed to the Reward Tracker this year:
LEGENDARY SQUAD SET COSMETICS
Celebrate in style with Legendary skins for your squad including Gibraltar's "Bass Drop", Lifeline's "Freestyle", Pathfinder's "Surround Sound", and more.
Also, if you complete the Anniversary Collection before the event ends, you'll automatically receive 150 Heirloom Shards to unlock the Heirloom or Prestige skin of your choice! 
EVENT STORE
You don't want to miss out on the Event Store where we'll have lots of special offers throughout the event. See below for a peek at the deals including, Lifeline's Freestyle and Newcastle's Cosmic Protection Bundles. Also don't miss limited-time offers like Crypto's "Awoken Fury" [available February 14th to the 17th] or Caustic's "Mad King" [available February 21st to 24th].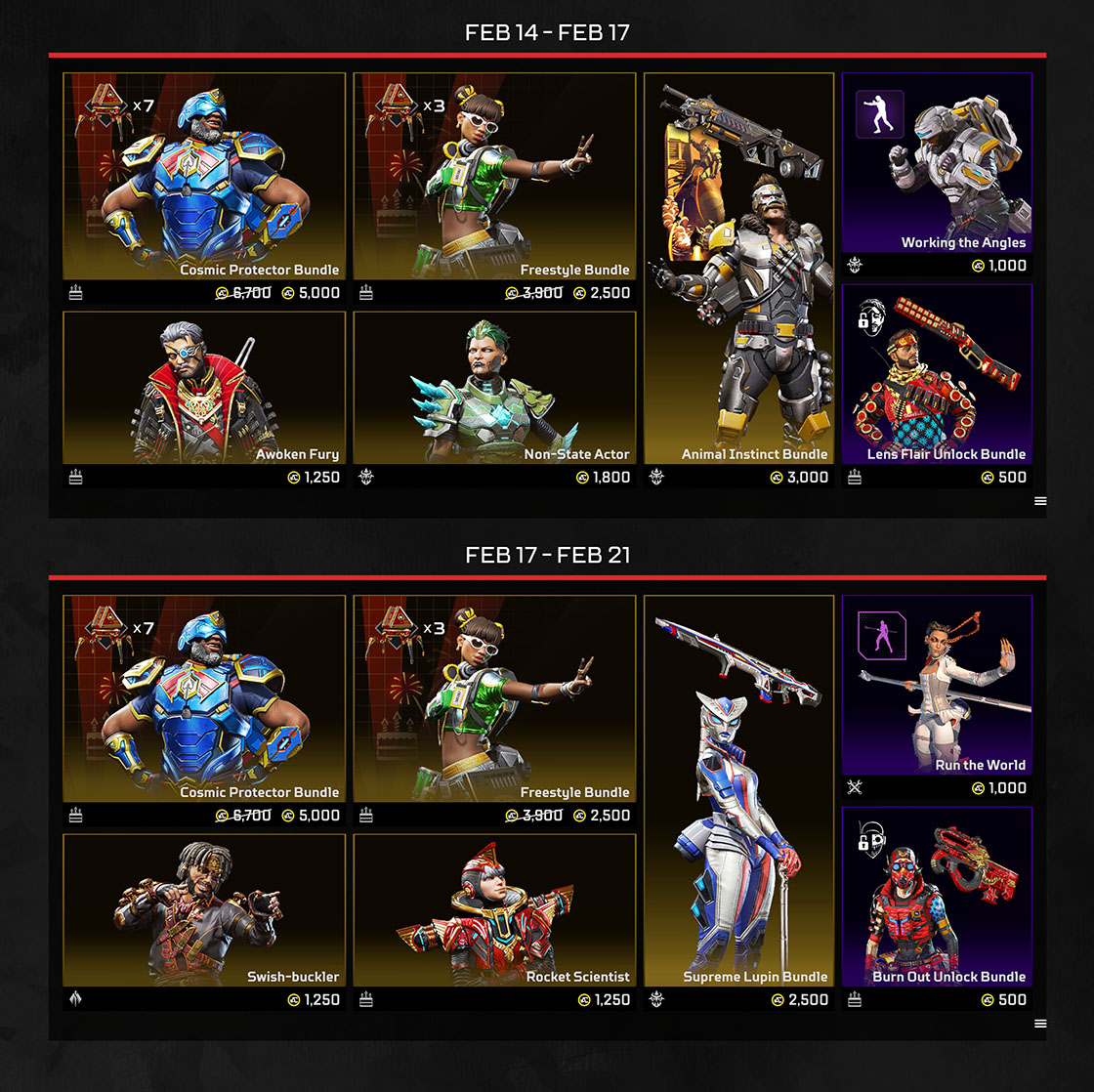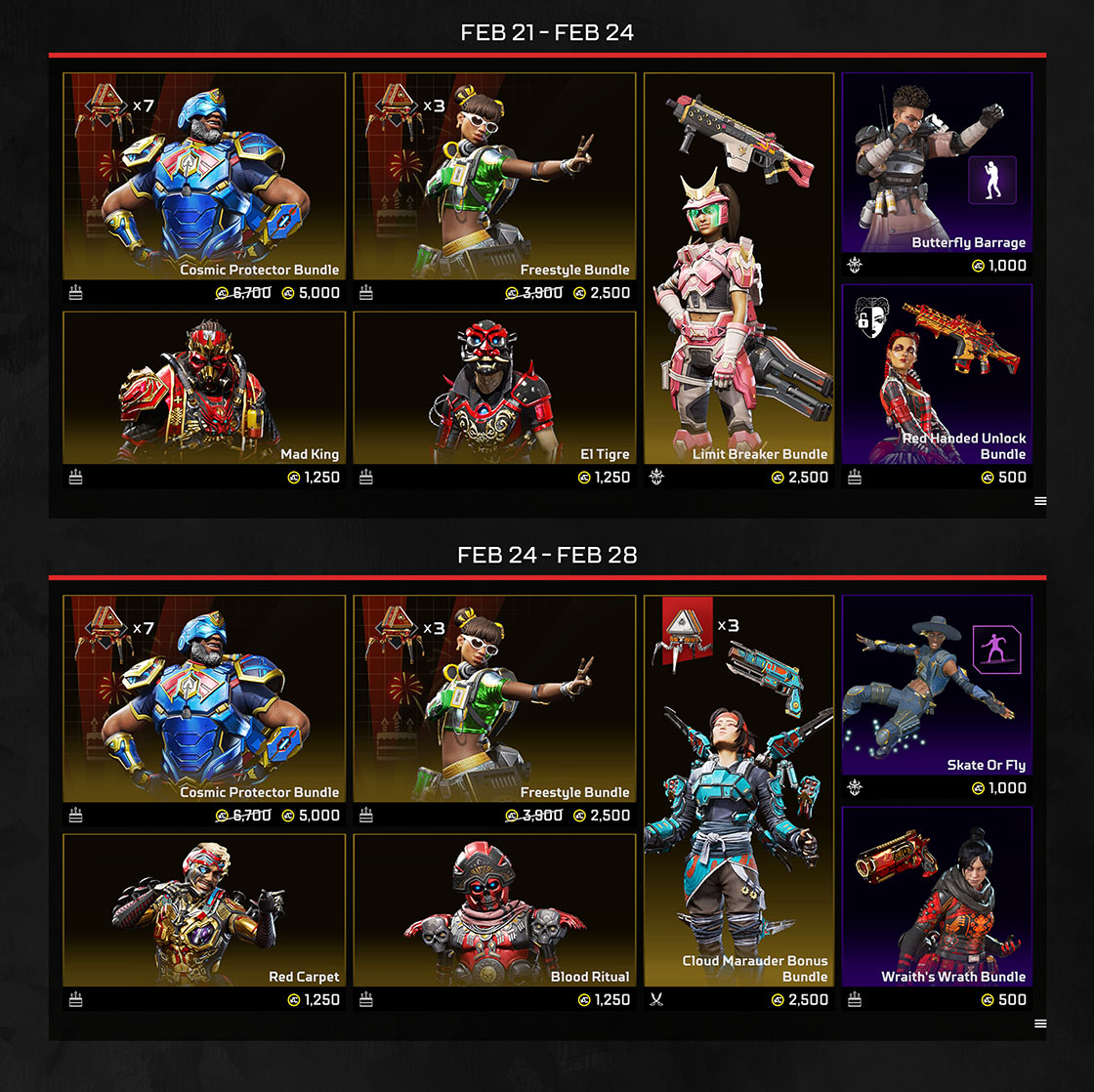 And don't miss our special login rewards† during the first two weeks of the season, with week one (February 14-21) featuring Crypto unlocked and one Crypto Thematic pack for all players that login, and week two (February 21-28) unlocking Ash plus one Ash Thematic pack for all players that login.
Offers will be available as follows:
Week 1: Offer starts at 10am PT on February 14th and end at 9:59am PT on February 21st
Week 2: Offer starts at 10am PT on February 21st and end at 9:59am PT on February 28th
TWITCH DROPS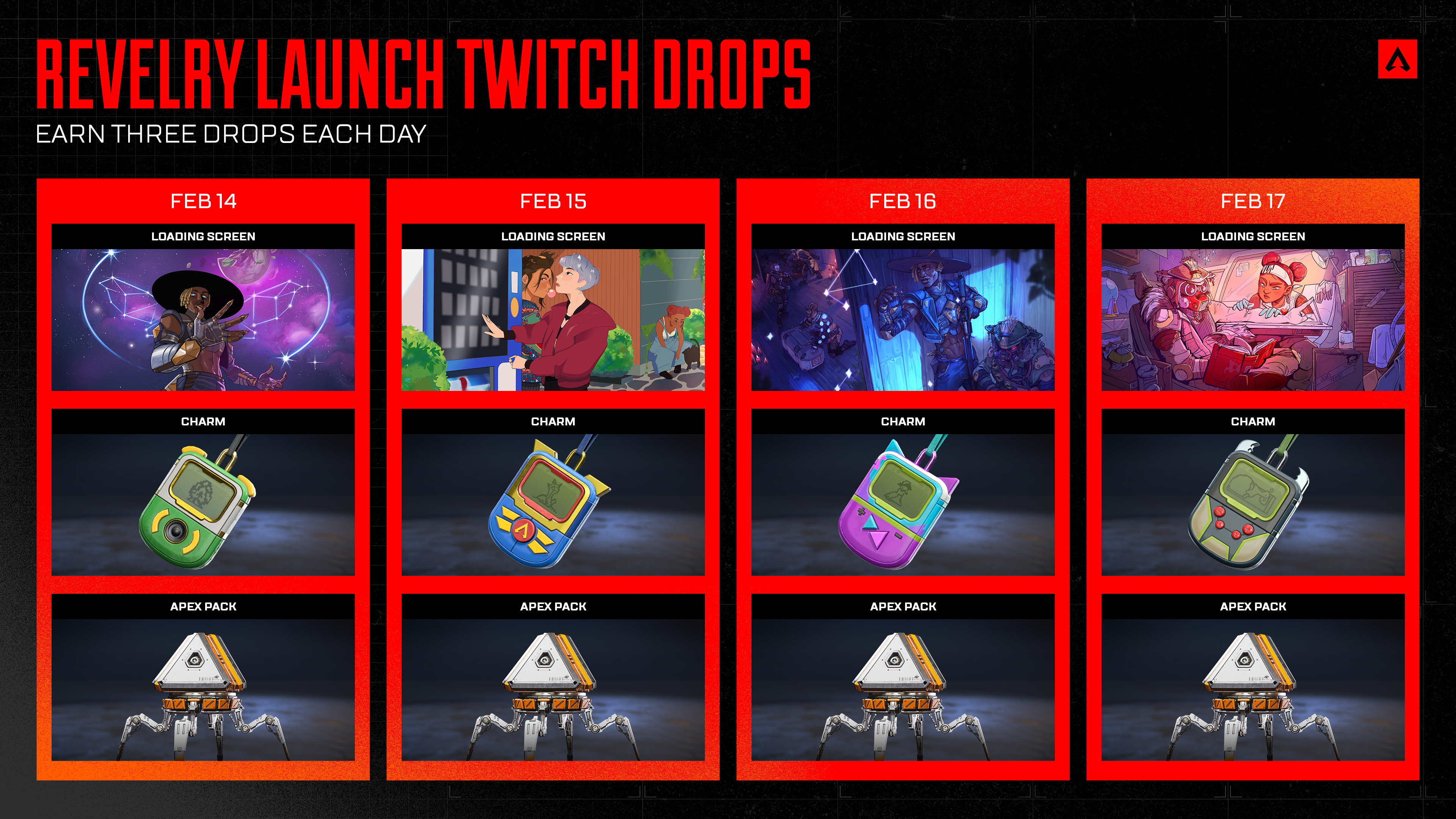 From Tuesday, February 14th through Friday, February 17th we'll be turning on Twitch Drops category-wide. Any streamer that is playing Apex during this time and has Drops enabled will be able to use them and each day will feature:
Loading Screen (dropped after watching 1 hour)
Gun Charm (dropped after watching 2 hours)
Apex Pack (dropped after watching 3 hours
Make sure to tune in during the following days to earn your drops!
Tues, Feb 14th @ 8am PT through Wed, Feb 15th @ 8am PT: Drop 1
Weds, Feb 15th @ 8am PT through Thurs, Feb 16th @ 8am PT: Drop 2
Thurs, Feb 16th @ 8am PT through Friday, Feb 17th @ 8am PT: Drop 3
Fri, Feb 17th @ 8am PT through Sat, Feb 18th @ 8am PT: Drop 3
Thank you to all the players and creators out there who have supported Apex Legends we're grateful for an amazing four years and here's to many more!