Fight or Fright Collection Trailer – Apex Legends Event Info
The Halloween themed event is coming to Apex Legends the 15th and Respawn released a new trailer in anticipation of the new event. This new trailer is showcasing a lot of the new content that will be released along side the spooky event.
The Fight or Fright event is a collection event, which means that beside exciting new skins there will be a limited-time mode. The mode that will be added is called Shadowfall and features a nighttime version of Kings Canyon! The match starts with 35 solo players dropping into a spooky Kings Canyon to fight to death… but it comes with a twist. After you die you come back as an undead version of your legend and join the Shadow Squad. As undead you will lose all your normal weapons and abilities but you gain increased movent and jump speed and on top of that you gain get a very powerful melee attack. After there are only 10 players left, they will have to work together to get to the evac ship while the undead try to stop them!
With this event also comes 24 Halloween limited-time cosmetics. These can all be unlocked through various ways (Direct purchase, crafting and Event Apex Packs) from day 1. The cost are as follow:
Direct Purchase

Legendaries

– 1,800 Apex Coins

Epics

– 1,000 Apex Coins

Crafting

Legendaries

– 2,400 Crafting Metals

Epics

– 800 Crafting Metals

Event Apex Packs
Respawn also decided to adjust how packs and currencies work during this event compared to the past. First of all, event currency will be removed and will be replaced with additional loot. Furthermore, the loot boxes will not contain any duplicates which will increase the chances of getting your desired item when getting multiple boxes. In the image below you can see the probabilities that Respawn provided.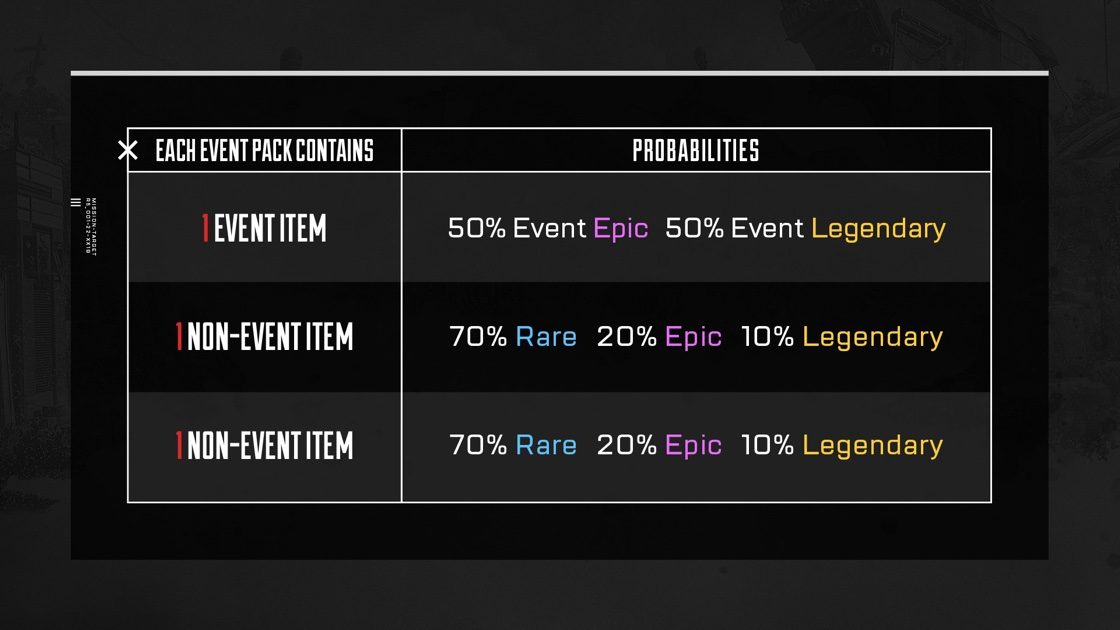 Lastly, Respawn adjusted how you can get the much desired Heirloom item. During this event when you acquire all 24 Fight or Fright items, you will unlock the Lifeline Heirloom set for free. For others, the Heirloom set that will be unlocked during this event, it will still be available as a bonus in Apex Pack afterwards.
Also don't forget that there will be a Double Top 5 & Wins XP weekend starting from 10AM PST / 1PM EST / 1900 CEST / 3AM AEST October 25 till October 28th.